Description
CONSTIPATION PACK
According to the National Institutes of Health, constipation is one of the most common gastrointestinal complaints, affecting one in three persons.
CONSTIPATION PACK is a popular herbal combination of three different products that used extensively by colon hydrotherapists in combination with colonic hydrotherapy treatments.
The package contains the following products:
CONSTFORM – 90 CAPSULES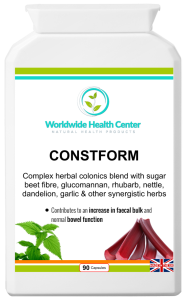 Based on a Dr. John R. Christopher formula, this tried and tested combination of active ingredients is known as the ultimate herbal laxative.
CONSTFORM is a fast-acting colon cleanser, designed for the chronically constipated in need of strong treatment for a blocked bowel. Purgatives have been combined with carminatives to prevent griping.
It is a powerful intestinal cleanser, which will "blast loose" residual intestinal congestion and get any bowel cleanse program off to a good start.
Ingredients: Rhubarb Powder, Capsule: Hydroxypropyl Methylcellulose (HPMC) (Vegetarian), Barberry Bark Powder, Glucomannan 90% Powder, Alfalfa Powder, Cayenne Powder, Garlic Powder, Aloe Vera Extract (200:1), Dandelion Root Extract (4:1), Ginger Root Extract (20:1), Nettle Leaf Extract (4:1).
Contains no added: artificial colours, flavourings, preservatives, dairy products, gluten, lactose, soya, sugar, wheat or yeast.
DOSAGE: 1 or 2 capsules to be taken 1 to 3 times per day, or as advised.
CSTFORM – 100 ml Herbal tincture 
CSTFORM is a food supplement contains mild laxatives that relieves digestive spasms and colic, promotes bowel movements, increases bile flow, and reduces gas and bloating.
Ingredients:
Cascara bark – Rhamnus purshiana
Senna leaf – Cassia angustifolia
Liquorice root – Glycyrrhiza glabra
Τurmeric root – Curcuma longa
Dosage: Take 35 drops x 3 times daily in a little water, away from food.
NANO-MAGNESIUM – 250 ml 
Magnesium is an amazing element, which plays a role in many different body functions. Magnesium is found throughout the body. It is believed to be essential for calcium deposition into bone.
NANO MAGNESIUM is a food supplement which it is absorbed through our selectively permeable intestinal membranes.
The membranes lining our intestinal tract maintain their own specific electrical charge in the form of ionic receptors. The body maintains this charge on the lining of membranes in order to facilitate the absorption of food nutrients.
Different receptors areas maintain different charge qualities, allowing for the attraction of the multitudes of diverse nutrients that pass through the intestinal tract. Because of this charge, ionic minerals are easily taken to the cells lining the intestinal tract, whereby they may be employed in the many physiological activities of the body.
* This statement has not been evaluated by the FDA or EFSA. This product is not intended to diagnose, treat, cure or prevent any disease. Prices are subject to change without notice.
Additional information